I'll Take This One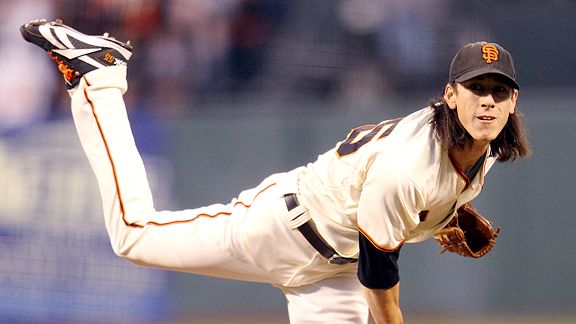 Frankly, I'm a little surprised that more baseball writers with reality-based inclinations aren't defending Lincecum's 14-strikeout 2-hitter as a more dominant start than Roy Halladay's admittedly masterful no-no. I think there's a decent case to be made, and I'm afraid that the deafening silence reflects a reluctance to really go to the mat for an idea that's subtly still verboten in mainstream baseball coverage, despite the amount of ink spilled on it since 2001: and that's the notion that the number of hits a pitcher allows (a more narrow idea than you might think) is subject to a lot of luck.
Of course, I'm not trying to suggest that the difference between Lincecum and Halladay's start is as large as a measurement like FIP says it was on a single-game basis — 0.65 vs. 1.65. But in many ways I still think Lincecum's start was better. A postseason 1-hitter doesn't earn Halladay half the words that have been spilled on his tremendous achievement. That doesn't mean it wasn't a fantastic, dominant performance. It just means that it might not be the best-pitched game of the 21st century, or whatever the popular meme has turned into.
Let's start with the balls-in-play issue, because that's the big one. Despite its quotability, DIPS dogma is still pretty widely misunderstood by people who aren't obsessed with this kind of thing. I generally find the biggest misconception is that pitchers have no control over balls in play. That's flatly incorrect, and not what the data actually suggests. What the data suggests is something more nuanced, but nonetheless important. The available evidence says that pitchers influence balls-in-play — it's just the type of balls-in-play that they work their mojo on. There's a big difference between the future success of severe groundball pitchers and severe flyball pitchers, mainly because the average run-value of a groundball is much lower than the run-value of a flyball. Groundballs rarely turn into home runs. Fly balls turn into home runs roughly 11% of the time. Or, put another way: the league average OPS on groundballs is .497. The average OPS on flyballs is .798. That's a big difference, and it's the difference that really matters.
You know what pitchers can't control, and doesn't really matter on true-value level? The batting average that pitchers allow on balls in play. This is because batting average just really sucks as a measure of anything. It dumps of bunch of different types of events into the same bucket and calls them "hits." But you know what a single and a home run have in common? That they both weren't outs. As a result, the league can be much more productive overall when hitting the ball in the air (that .798 OPS, which is like Justin Upton at the plate in 2010), and produce just a .219 batting average. But do you know what the batting average is for groundballs, despite the fact that they're about as productive as Jack Wilson on mescaline? A value that's 19 points higher — .239.
Which brings me to Tim Lincecum and Roy Halladay, and what they did in their postseason debuts. You already know the basic facts about Halladay's start: 9 innings, one walk, eight strikeouts, and no hits surrendered. Of those remaining 19 outs which Halladay didn't create himself, he allowed just one line drive, six flyballs, and 12 groundballs. Notice the distribution there. Nineteen outs. Mostly on the ground. Only a few in the air. This is important. Now consider Halladay's career influence on groundballs, flyballs, and line drives, as measured by OPS allowed:

         OPS Allowed
        Roy   NL Avg   Delta
GB     .404     .497   -.093
FB     .729     .798   -.069
LD    1.770    1.694   +.076

He's very good, obviously — better than average at limiting production on grounders and flyballs, and only a little worse than average on line drives. Use Halladay's career rates on all those balls in play as a measure of his true talent level at depressing batter performance, and you get an expected OPS of .576 on those 19 batted balls from Wednesday afternoon. A tremendous effort.
But then consider Lincecum's start: 9 innings, one walk, 14 strikeouts, and two hits surrendered. Two more baserunners allowed, but nearly twice as many Ks, and just 15 balls in play. Now consider Lincecum's career performance on groundballs, flyballs, and line drives:

         OPS Allowed
        Tim   NL Avg   Delta
GB     .512     .497   +.015
FB     .666     .798   -.132
LD    1.679    1.694   -.015

He's worse than average on grounders, but he only allowed four of those on Thursday night. He is, however, much better on flyballs than the average pitcher, and that's the batted-ball type he allowed most. He's also more than 90 points better against line-drives than Halladay is — a key component when we add everything together.
Using his career performance as a guide, what was Tim Lincecum's expected OPS on balls-in-play against the Braves in Game 1? Try .493 — 83 points lower than Halladay's total.
Granted, I understand the non-statistical argument for Halladay's complete pummeling of the Cincinnati lineup. He certainly looked more in control. He thew more strikes than Lincecum. He went right at hitters in a way that Big Time Timmy Jim did not. He was more pitch-efficient, and faced a better offense from top to bottom. I watched almost all of Halladay's no-hitter, and about half of Lincecum's complete game. I understand what people are responding to.
But I also think that baseball fans are basically taught, from the very beginning, to think about pitching in a way that's fundamentally incorrect. They're taught to basically undervalue the strikeout, underrated the negative implications of a walk, and to believe that preventing hits is something a pitcher does when he's at his best. (For anyone who saw Dallas Braden's perfect game or Edwin Jackson's no-hitter this season, this is your cue to smile knowingly at the computer screen.) And if they listen to Joe Morgan too much, they're also taught that the world is flat, small-ball wins championships, and Barack Obama might be a Kenyan socialist dictator. (That last one might not be true.)
So what we have are two starts, both dominant, and both historic. If I could have a Major League career that consisted of one appearance, I'd be happy with either them. (Really!) They were both amazing achievements.
But Tim Lincecum's was more dominant. Sure, Game Score is an imperfect measure. But you know what else has some major flaws? The way we traditionally judge pitcher performance.
You can follow more of Ryan Wilkins' writing at @rwilkins and wilkins.tumblr.com.